Zip Your Flyer Blog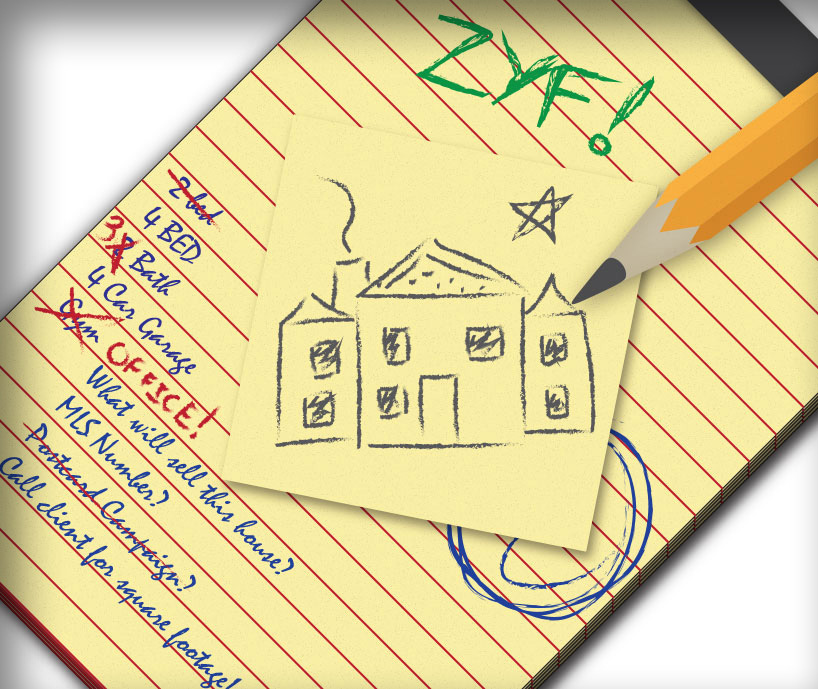 Posted on April 9th, 2014 by Kris Thornburg | Categories: General, Marketing & ZipTips
As I wrote in the previous post, that pesky character limit the MLS puts on you really stifles your creativity.  You know as well as I do that if they didn't put a character limit on the listing description that you guys would be writing novellas in there, some with plot twists and everything.  (Don't forget, I was one of you and I've been working closely and directly with you guys for over 11 years now.)
The point I was trying to make in the last post was that you might not want to use the same listing description for the MLS and all of your other marketing, Email Flyers, Printed Flyers, Syndication, etc.  I know, you guys are really busy, and using the same one for everything is easier.  But remember, the agents you are marketing to are busy also.  Get right to the point when you are writing for other agents.  They are busy too and might not want to wade through flowery paragraphs that your potential homebuyer would swoon over.
What?!! OK…
What do Real Estate Agents with Buyers care about when they look at a flyer? (Feel free to chime in here)
What would a potential buyer find especially appealing about your listing?
What does your client think is an important selling point about their house? (Be sure to ask them.)
If I had to put my finger on it I would say that the agents who have trouble here are often just unorganized with this task.  When I was a REALTOR, I did a pretty good job writing descriptions for my listings.  My trick was a steno notepad, small enough to hold and write on as I walked through the house.  (Steno Pad – for those of you under 35, it's a small spiral notepad… Nevermind, just key it in on your IPhone)
I would start in the street and take notes.   I'd walk all the way through with my client.  I would ask them to tell me things about their house as we went.  I asked them questions and LISTENED the whole time to be sure I didn't miss a thing:
-Great Curb appeal, corner lot, big trees, sprinklers, nice neighborhood, playground a block away.
Then I'd go inside. As I took notes about the features I also wrote down words to describe feelings I had as I walked through:
–Heavy custom front door. Big entry, soaring ceilings, warm, welcoming, nice colors, impressive….
– Formal Living Room, Big windows, bright happy, gas fp. Lots of room, would hold big furniture, would live nicely, would be great party room.
-Den-office-spare room- glass panel doors, blinds, wainscoting.  A quiet space… great for working from home.
-Kitchen (this is big – spend some time with this so you don't miss anything) granite, hardwood floors, solid cherry cabinets, undercounter lighting, bright, big, Island with room for seating, stainless sink, fancy faucets, little veggie sink, pot filler, stainless appls stay, disposal, walk in pantry, butler's pantry… looks like a fun place to cook – glass of wine…
You will never remember all this if you don't write it down.
So now what?