Zip Your Flyer Blog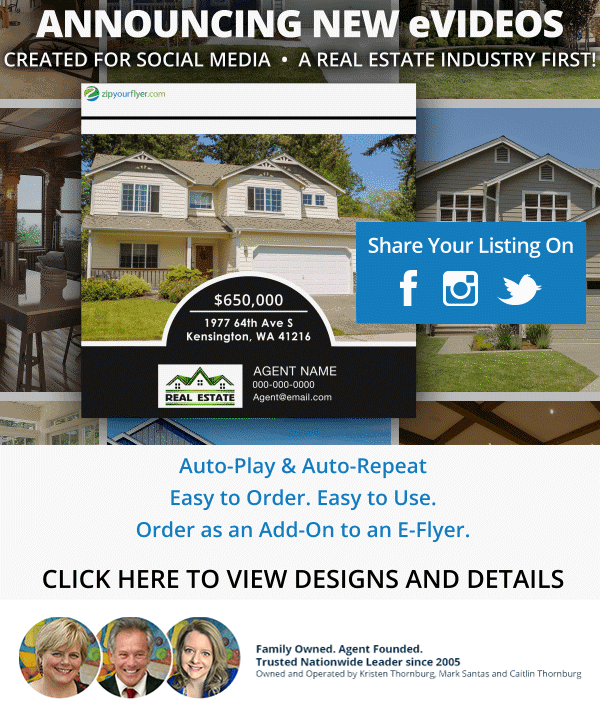 Posted on July 2nd, 2020 by Caitlin Thornburg | Categories: Marketing & ZipTips, Uncategorized
Featured in INMAN News (see article here) – eVIDEOS are a great way for agents to get dynamic marketing content for social media in a cost-effective, attractive format. eVIDEOS are created for agents to use on Social Media across platforms such as Facebook, Instagram, Twitter…etc. Zip Your Flyer eVIDEOS are ordered as an "add-on" to any E-Flyer order at the time of checkout as an add-on. We know video content is hard to come by, this is an easy way to get video content out there across social media and create dynamic attention for your listings. Add-On to your E-Flyer Order for $34.95.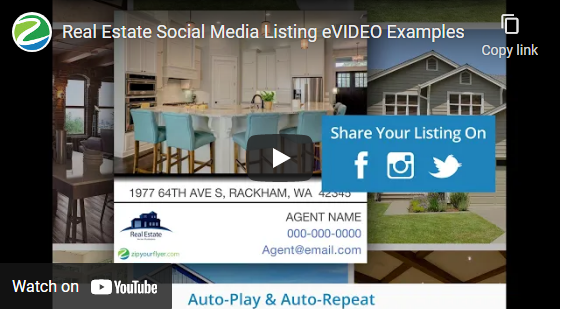 WHY ORDER a Social Media eVIDEO?
We will provide a video file already sized for social media.
Our eVIDEOS will play automatically and loop on social media.
Show your client how hard you are working for them.
Using eVIDEOS on social media is a great way to market your listing.
HOW TO ORDER?
At the time of order, select which style of eVIDEO you prefer (see designs here) designs include Elegant, Modern, Clean and Artistic. We will use your photos and listing info from your E-Flyer order.
HOW DO I GET THE eVIDEO FILE?
The video file is easily downloaded from your My Account page.