Zip Your Flyer Blog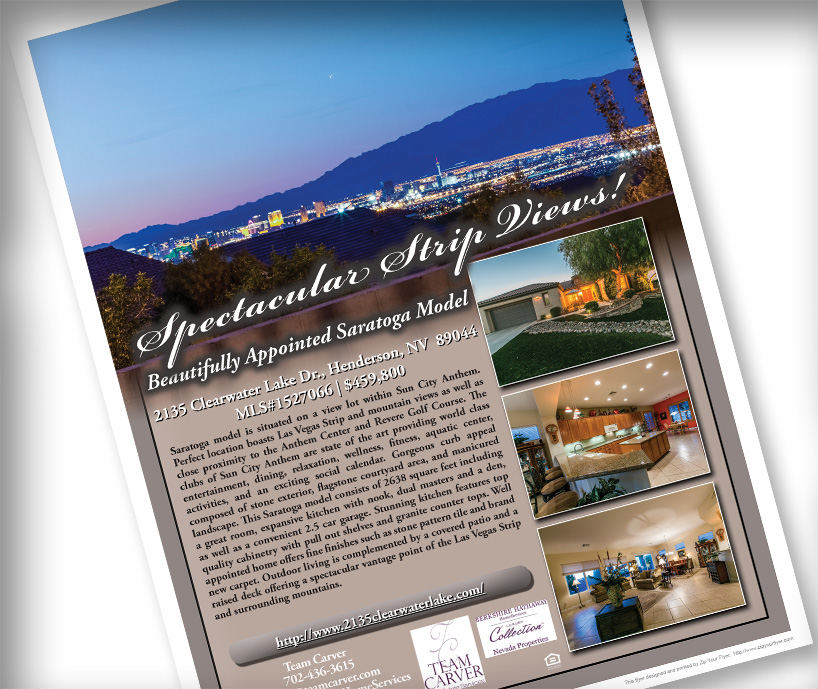 Posted on May 28th, 2015 by Mark Hayden | Categories: Marketing & ZipTips
How much time do you spend admiring the exterior of your home?
Each month the ZipYourFlyer.Com will showcase one outstanding real estate e flyer and discuss in some detail what makes it shine. A real estate e flyer of the month, if you will!
Our very first flyer of the month is for a Nevada Listing.  What makes this flyer immediately "pop" is the focus on the view from the property, rather than the view of the property.  Many residential flyers chiefly focus on the exterior of the house. How much time do any of us really spent taking in the views of our own homes?  Shifting the focus away from the house's exterior and onto one of the more prominent vistas on the property can help capture the imagination of a prospective client. Unique shorts of the territorial views can also grab the attention of a fellow agent who has seen a few too many "EXTERIOR: HOUSE" photos that day.
Remember that in many cases a good view can make up a sizable chunk of a property's value! When making a real estate e flyer it is important to play to the strengths of the property:  Flaunt it if you've got it.  If if what you've got is a great view of the surrounding landscape, why not make it the centerpiece of the real estate e flyer?